In 1971 Mattel released one of their most popular Barbies. The Malibu Barbie. She was dressesd in a one piece aqua bathing suit and had purple sun glasses and a yellow terry cloth robe. She never came with shoes or sandals.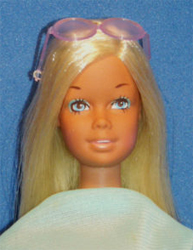 She was issued up until the early 80's. Malibu Barbie had several accessories such as a camper, swimming pool and dream house with elevator.
In 2001 Mattel created this reproduction of the Malibu Barbie. I have this repro in my collection.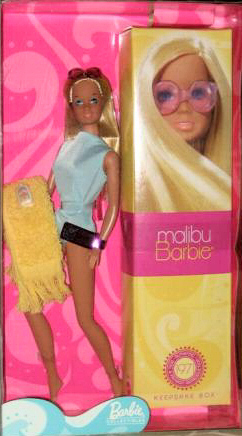 This year for the 50th anniversary Mattel rereleased the Malibu Barbie in a beautiful boxed set with a reproduction outfit, pilgram style shoes, and a reproduction of the Barbie booklet that would have come with the original.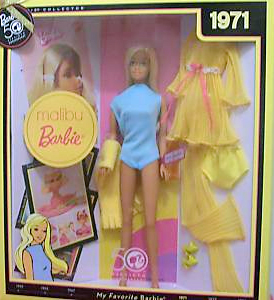 You can also find Malibu Barbie on other products this year for the celebration such as this make up set by Stila.
I read this interesting news article and thoght I would share it in case you live in the area!


Mattel Inc. is opening a pop-up Barbie doll store at Mall of America next month.

The store, to be located on the Bloomington-based Mall's first floor, will open at the same time as an exhibit focusing on the history of the Barbie doll.

The exhibit will run through March. The store will close when the exhibit is over.

Happy Mid-Week,

Lindsey