Hello friends! This post is themed around vintage Barbie aprons!
This first one is from a set called "Barbie Q Ensemble" #962 from 1959.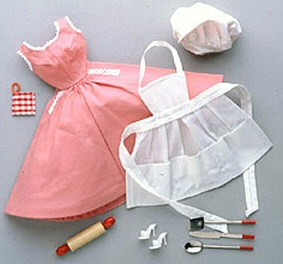 This one is from "Barbie Baby-Sits" #953 from 1963. I have this sweet half apron. I love the pink stripes!
This apron comes from a series of matching travel costumes for both Barbie and Ken. This one is "Barbie In Holland" #823 from1964.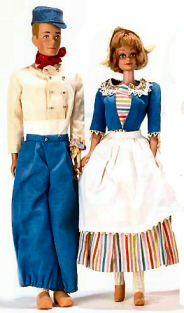 Another travel costume featuring an apron, is "Barbie In Switzerland" #822 from 1964.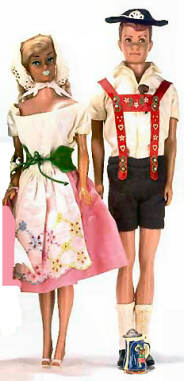 Mattel also sold Fashion Paks. These accessory packs usually consisted of blouses, skirts, shoes and purses in colors that would match other Barbie clothes that you could buy. This apron set came in blue, red white. This apron was much like the apron from the Barbie - Q set. The "Barbie Fashion Pak Apron and Utensils" from 1962.
I hope you enjoyed seeing Barbie's aprons!
Wishing you a lovely day, Lindsey