Wouldn't you like to be Barbie for Halloween? I would if I had the body for this dress! This costume is of the popular vintage dress, "Solo in the Spotlight". I love how this costume comes with a wrist band like the old Barbies had!

Of course if you were going to be Barbie, then your husband would have to be Ken! This Ken looks more like he is from the seventies to me, with his hairstyle. He has cool armband, too!
This is Barbie, Ken and Skipper's first Masquerade party costumes. From 1963, Barbie's costume is called, "Masquerade" #944.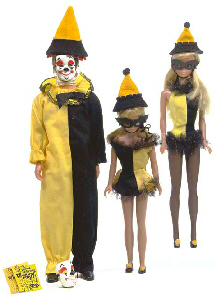 When I think of Halloween I can't help but think about my favorite old television shows like Bewitched. Mattel created a beautiful doll that I think really captures Elizabeth Montgomery's beauty!
I also love The Munsters! I received this wonderful set for Christmas one year and it is one of my favorite Barbies! I love how beautiful they made Lily!
The Addams Family was never a show I ever saw on tv when I was younger so I can't say whether I like them or not. From the little I have seen they are fairly cute! Mattel created a gift set for this duo and I must say that they did a really nice job and I hope to add this set to my collection some day.