Hello Today! It's time for another Barbie Wednesday! Today I wanted to show my great flea market find!
This is the new Bathing Suit Barbie that Mattel released a few months ago. She is supposed to be today's version of the famous number 1 original with her black and white striped bathing suit!
I planned on buying her at Wal Mart but I happened upon her the other day at a flea market! For a great deal! I am very pleased to add her to my collection.
I can't help but look at the two and see how classy and elegant the original Barbie was compared to how cutesy the new version is.




Every year I get very excited for the beginning of July! Not because of Independence day but because of the release of this years Hallmark ornaments! It's always a fun time for Mom and I to go pick out which ones we plan on getting! My favorite are always the Barbie ornaments! What else could you put on a 7 foot pink Christmas tree?!
Here are photos of the new Barbie ornaments this year!
I love this one! Wow! She is quite lovely!!!!!!!!!!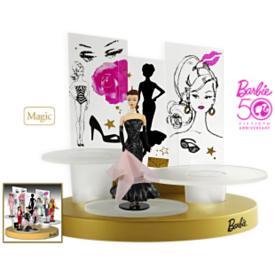 The shoe is too cute and I would enjoy it all year long!