Anyone remember Twiggy? She was a famous British model from the sixties and the first real person to have a Mattel doll made after her.
In late 1967 Mattel came out with the Twiggy Doll. She is the same size as a Francie or a Casey doll 11 1/4 and could share their wardrobe but Mattel did create four exclusive outfits for the Twiggy doll in 1968.
Last week at a local antique shop I found a Twiggy doll in a ziploc bag for $6.99! She was clothed and even included another outfit !
The outfit from the set is called "Twiggy Turnouts". A sleeveless metallic skirted mini dress is what I got from the set.


Twiggy has the same head mold as a Casey doll just with heavier makeup.
When trying to identify the other outfit that Twiggy came with, I discovered it was actually Talking Julia's jumpsuit. This doll is based on the television show "Julia", played by black African American actress Diahann Carroll.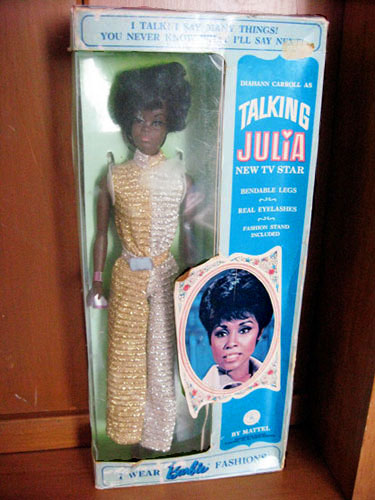 So here she is in her sparkly outfit! She was definitely a cute find and great addition to my collection!