Today's post is all about Barbie's best friend, Midge!
Originally introduced in 1963 as Barbie's best friend
Midge Hadley . She was introduced to counter act the claims that Barbies was a sex symbol. Like Barbie, Mattel created a boyfriend for Midge, too. His name was Allen Sherwood.

Midge came out in blonde,brunette, and red head. Depending on which color hair you chose the color of the two piece swimsuit varied. If Midge had red hair her swimsuit was yellow and orange, for blond hair it was in two shades of blue, and if she was brunette it was pink and red.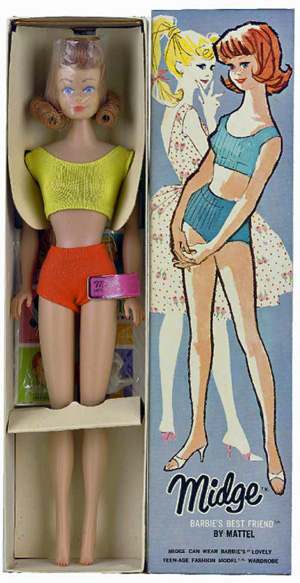 In 1965 Mattel came out with a bendable leg Midge. She had a shorter hairstyle and headband.


Mattel stopped making Midge dolls in the seventies and didn't create another until 1988.
In 1990 Mattel created a Wedding Day Midge. Her groom being Allen.


A year after the Wedding Day Midge came out, the couple appeared in a Barbie pamphlet holding twin babies. But the dolls were never reproduced.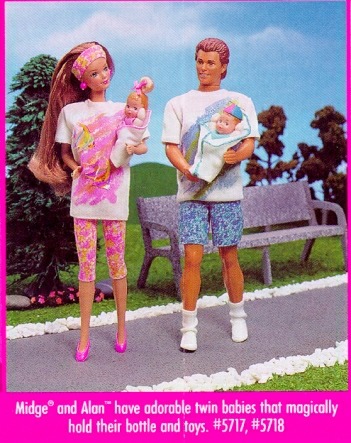 However in 2003, she and Allen were introduced in what was to become a world wide controversy. The box featured Midge with a three year old son Ryan and new born Nikki. This was called the Happy Family line. This was also the first time Mattel had created an African American Midge.
Midge was sold pregnant with a removable belly bump with a baby inside. Some people complained that it was not kid appropriate and that Midge didn't have a wedding ring on. Wal- Mart pulled their stock from shelves and a newer version of a non pregnant Midge with ring and a cardboard cutout of Allen were added.
About a year later another version of a pregnant Midge was released with a new baby this time. It's gender was a surprise unlike the other version. This baby's gender being a surprise when you opened the box.
Grandparents were also created to go with the Happy Family line.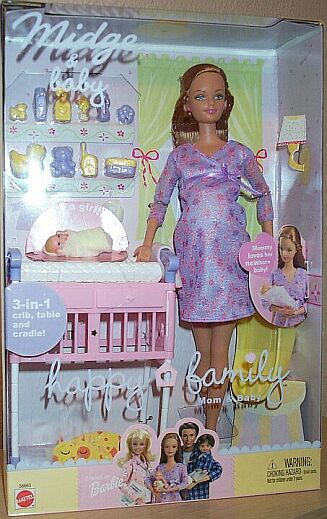 This is the most recent Midge. A collector's reproduction gift set of both Midge and Allen.
I hope you enjoyed reading about Barbie's best Friend!
Happy wishes to you, Lindsey