Hello Friends, I want to start this post by sharing a picture of a Barbie that has the Pink and Red Sugar kissed look to her! This is Campus Sweetheart Barbie. She is one of the reproduction dolls that were realeased this year.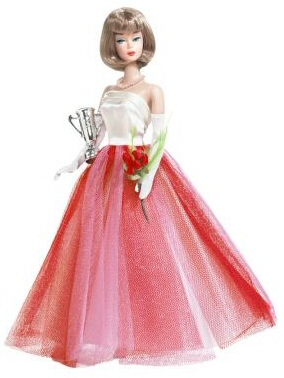 I want to show you more from Barbie goodies from my Birthday! My Aunt gave me this really awsome Barbie display, created by Hallmark for displaying Barbie ornaments. It lights up to create this beautiful, magical display!
Included in this set was this Solo in The Spotlight Barbie ornament. Her dress is glittered unlike the original Solo in The Spotlight Barbie ornament realeased a few years ago.
My Mom gave me this beautiful ornament this year for my Birthday. This is probably my favorite from this years collection. It is a replica of an original Ponytail Barbie in a replica box.
The doll has moveable arms and legs just like on the original doll.
My Mom also gave me this ornament which I really love! An Open Toed Heel that is covered in pink glitter! Every girl needs this ornament! It is so cute and will stay out all year long!
I wanted to take a moment to tell all the Twilight lovers out there that I have seen New Moon twice now and there is also a good possibility of going again tonight!
Although it is very different than the first movie, I truly loved it! It was a magical movie and I encourage everyone to see this movie!


I hope you are having a great week! Lindsey