Hello friends!
Today I am sharing with you Avon Exclusive Barbies.
These dolls were available exclusively through Avon catalogs. The first Avon Barbie came out in 1996. She was called, Spring Blossom Barbie.

The next doll to be released by Avon was the Winter Velvet Barbie also from 1996. The first in a series of Winter themed dolls.
This Barbie inspired today's post as I just added her to my collection Monday! Still in her original box, she was a great thrift store find!
One of my favorite Avon Barbies is the Winter Rhapsody Barbie, which came out in 1997. I loved playing with her! She is the second in the Winter Theme collection.
Although this was an Avon Exclusive, it was sold by K-B Toy Liquidators for a reduced price and a Winter Rhapsody Sticker covered the Avon label.
In 1998, Avon released the Winter Splendor Barbie. She is a lovely doll! I have always thought she was one of the prettiest Barbies!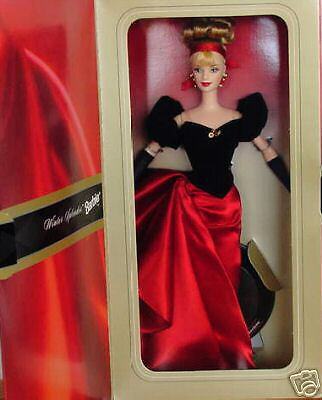 Also in 1998, came the Spring Tea Party Barbie. This doll also had been sold by K-B Toys with a sticker covering the Avon label.
Several more Avon Barbies were released over the years, but my favorite of all is this Timeless Silhouette Barbie from 2000. I adore the vintage style Ponytail Barbies across her dress!

This lovely Victorian Tea Barbie from 2006 by Avon must find it's way into my collection someday! I love her! She is so pretty!
I hope you enjoyed seeing some of the Barbies created for Avon!
In 1 week from today you will start to see my work on
October Afternoon's blog
!! Yay! I can't wait to share with you all the projects that I created!
Starting September 1st I will be the Guest Designer! I am so excited! It was such a treat to get to work with all their lovely paper! My favorite new release from October Afternoon is the Modern Homemaker Line! It's dreamy!!!!!!
You can visit
their website
to see pictures of the new release!!!
You will also be seeing lots of projects featuring this lovely collection because it's all I want to work with!
I didn't have any of the cute stickers or embellishments from this line to play with while creating and as you can see they came out with beautiful stickers and even matching buttons!!! I can't wait to get those too!
The Modern Homemaker line will begin shipping to stores at the end of September! I can hardly wait to get more!
Wishing you all a lovely day, Lindsey