Hello friends, today I want to share with you a few images from my Mom 's Barbie booklet.
I love these books! I am always excited to find these and I love to think about the girls who looked throught them over and over dreaming of which outfits they wanted.
Such beautiful doll dresses! These images would make wonderful tags!
Look at the check mark on this page! This book has several where my Mom had marked what she wanted. The ones she marked also happen to be some of my favorites too!
Here is what I would have checked. This Dream Kitchen is a dreamy piece that I hope to someday have!
As you know, I love cases and houses as much as I love the dolls!
Here is a recent flea market find. A figurine showing a Ponytail Barbie wearing The Little Red Riding Hood costume that went along with The Little Theater playset. This figurine is from 1995.
The original dress came out in 1964. It came with a theater program and wolf mask.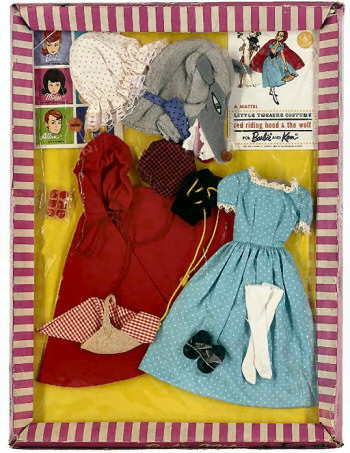 Thank you for stopping by!
Have a wonderful day, Lindsey