Hello, today I wanted to show you all some really cool vintage Barbie items I found on ebay!
First is this really awesome seat cushion. I've never seen or heard of a Barbie seat cushion before but, wow, I want this. It's currently on ebay for $200.00.


I was salivating over this beautiful set of vintage trading cards from 1962. Wow! I have never seen most of the illustrations in this set. The listing showed lots of photos, so I had a chance to see these cute cards.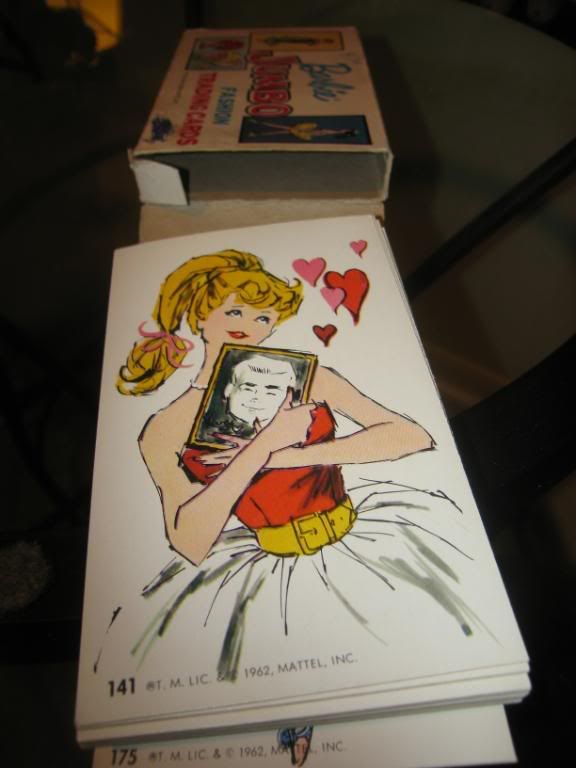 I have always wanted this trunk. You know, I'm a case junky. I can never have enough cases and houses! This is one I will have to add to my collection someday.


I love this store display. I can't imagine how few of these that would have lasted through the years. Even more amazing is that it comes with the sewing patterns in the display. If only I were Super rich! I would have it all!!! :)

Another great reason to be looking at the vintage Barbie items on ebay is to see rare sample items and Japanese exclusive pieces. Like this beautiful dress which was featured in an old issue of Barbie Bazaar magazine.

I loved these photos of this Color Magic Barbie. This one is called Midnight Color Magic. She is called Color Magic because you could change the color of her hair.
This one you would buy with Midnight Black hair and you could change it to Ruby Red.
If you bought it with Golden Blonde, you could change it to Scarlet Flame.


This doll is listed on ebay right now for $1,699.99

I also wanted to show you these Barbie scrapbook items. A few years ago a company called Sandylion released this set of Barbie items.
Here is the album.



Here is one of the sheets of paper.

Wishing you a great day, Lindsey