Hello Friends, today I want to share with you a really sweet gift I received from our blog friend, Jacqueline from
Once Upon a FairyLand.

This is a Salt and Pepper Shaker set! Isn't it so cute?! I love Ken's Chow Time apron!
I got the Edward Twilight doll for Christmas!! I think he is so cool! Mattel also created a Bella Barbie which I will get soon and in the Spring, Mattel will release a Jacob doll!
Next to Edward is a reproduction Brunette Ponytail Barbie and Reproduction Malibu Barbie in the box behind her.


This is a close up of Edward's face. Can you see the sparkles? I love that Mattel took the time to add this detail to the doll!

I recently spotted this pretty new gift set coming out this year! It is a reproduction Platinum Blonde Swirl Ponytail Barbie. She comes with a reproduction outfit and booklet.
I love the blue box! I think this is such a great set!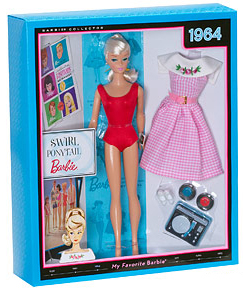 I hope you're having a great week! We're expecting more snow today! Yippee!
Lindsey