Hello, I'm glad you came to see me today! Isn't this magazine layout from vogue Italy awesome?
I love the chair in her hair! How cool it is to see Barbie in this size perspective! I love it!
And this page from Vogue Japan is quite interesting. I love this Evening Splendor Dress. Always one of my favorite dresses!
This is a new collection of Barbies coming out soon called "Pop Life". They are so pretty and retro! I especially love this blonde one as she reminds me of Barbara Eden from "I Dream Of Jeanie". Does she to you?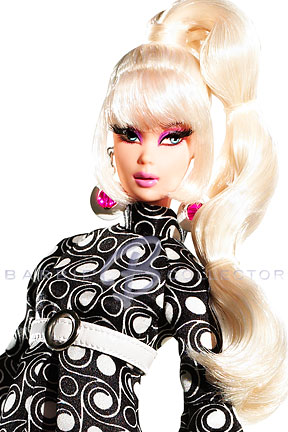 What funky hair!!! I like the chairs shown in the photos. I hope that they will come with dolls too!
This is such a cute line! I hope I can collect a couple of them for my collection!
I adore these purses!!!!! They have a whole line of different styles and sizes on Barbiecollector.com. They are pretty expensive but oh so cute!!!!!
Maybe I will find one on ebay some day! I really think I need one!
Here is the 1963 Barbie trading card featuring the Sophisticated Lady dress.
Mom and I signed up for the 2nd Annual Mad Tea Party Hosted by Vanessa of
A Fanciful Twist
. Last year's was so much fun so I hope everyone signs up as I am sure a great time will be had by all!
Wishing you a happy day, Lindsey